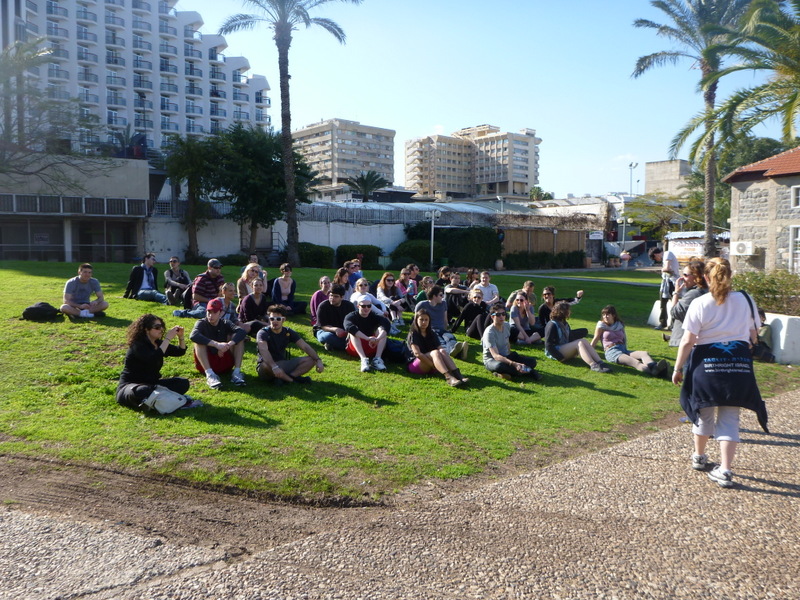 Reflecting on the first few days of Birthright, I've learned (or re-learned) how powerful group experiences are at enhancing life and facilitating quality relationships. The first four days, we walked around the ancient holy city of Tzfat, conducted a Shabbat service and dinner, had a philosophical discussion of the "chosen" stigma of Jews, hiked next to the Hermon River, toured one of Israel's largest wineries, and successfully compacted a night out in Tel Aviv in two hours. So far, Birthright has been a ridiculously awesome and tiring mix of sight-seeing, goofing off and having tons of fun with 39 people just like me, and learning about my heritage and religion. Seeing amazing historical landmarks and learning about my heritage has been wonderful and enlightening, but the experience would not be possible without the great guides and other 22-26 year old participants with a common background.
The first stop was Tzfat (also Safed), a beautiful, holy city built into the hills. It's not only been the source of Kabbalah or Jewish mysticism, but been a very strategic military location throughout history. It's built overlooks a large valley that connects lands north of Israel to lands south of Israel. The history of Tzfat extends all the way back to Roman times. It was occupied by many different people throughout the different periods in history.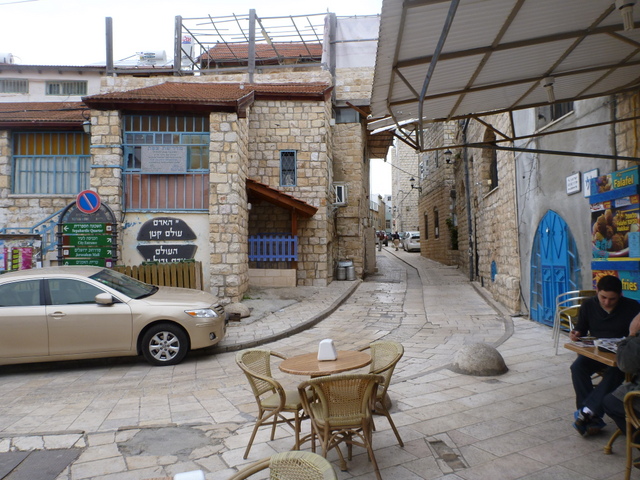 The city itself has interesting architecture with two or three story old buildings, stone roads, and narrow alleyways. It feels very quaint and confortable with stone buildings and roads. We walked around the city and then to a small decorated Synagogue.  After, we visited a crazy wax candle shop. The wax artwork was amazing with detailed three dimensional wax replicas of religious stories like David and Goliath, Noah's Ark, and Captain Jew killing Hitler.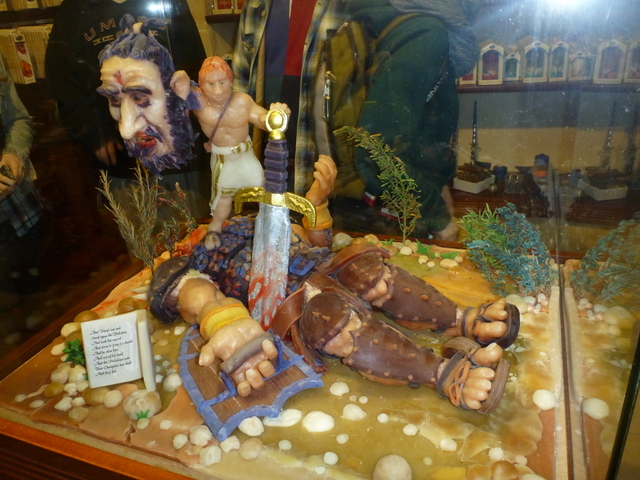 After the candle shop, we walked through the art market for about 2 hours to eat and shop. A bunch of us walked down the street to a falafel shop. It was my first Israel falafel experience.  It went great with the hummus.  The paintings and jewelry in the market were beautiful.  Many locals and foreigners come to Tzfat to shop for art.
We headed back to our hotel in Tiberias and prepared for a Shabbat service and a delicious dinner. The dinner included steak, meat filled pastries, and cooked vegetables. There was also an amazing selection of over ten different salads with cucumbers, tomatoes, peppers, eggplant, beets, and cabbage.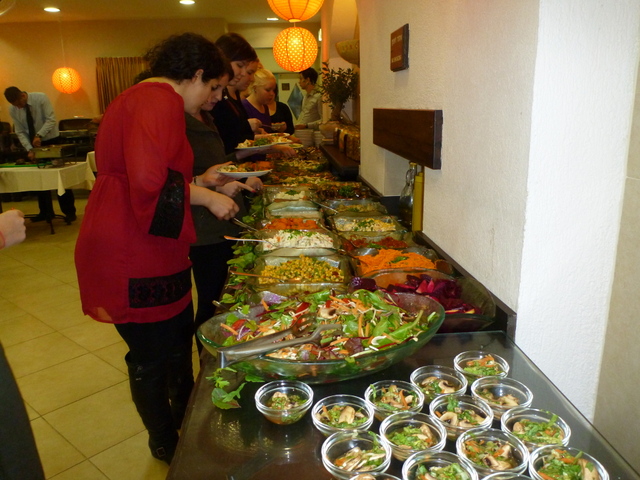 Saturday was Shabbat, a day of rest. We went on a short walk from our hotel to Tiberias along the Sea of Galilee. It was a perfect day for a walk and the sea was spectacular. We learned that the sea is very important because it provides drinking water to most of Israel. The water level is closely monitored.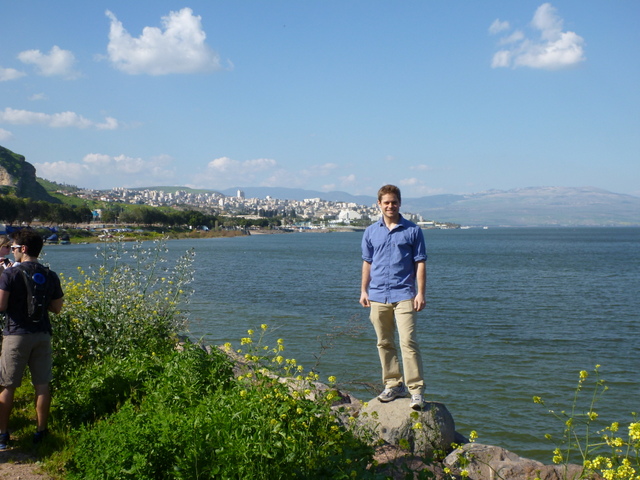 Afterward, we discussed how Jews are referred to as the "chosen" people and what it means to us. The "chosen-ness" originates from several different verses in the bible and can mean different things to religious and non-religious Jews. It's a very complicated subject that can sometimes engender a sense of superiority for Jews. Our group discussed that this sense of superiority can also appear in other religions. Though I acknowledge the religious and cultural significance of "chosen", I don't view the Jewish religion or Jewish people as superior (or any other religion or people for that matter).
That night, we had dinner in Tiberias. Feeling adventurous, I ordered Jerusalem mixed grill – sautéed chicken hearts, livers, and spleens. I was surprised by how delicious it was.  The meat was tender and spiced very well with onion, garlic, juniper berries, black pepper, cumin, tumeric and coriander.
The next day, we hiked around Banias nature reserve and toured the Golan Heights Winery. Along the path in Banias Nature Reserve is the Hermon stream, which is one of three streams that feed into the mighty Jordan River. That night, we successfully compacted a night out in the Florentine district of Tel-Aviv into two hours, visiting many pubs.
In the first few days of the ten day experience, we had already seen and done so many things. When I thought about coming to Israel, I expected a desert with some interesting sights. Now that I'm here, I'm struck with the beauty and diversity of Israel. In addition to the beauty, there's so much history and culture on this small piece of land.
There are two things that really make the experience. Understanding the significance of each place we visit and sharing the experience. The first would not be possible without our amazing guides, Hillary and Adinah, our social guide, Tomer, and our security guard, Fedya. I'm very impressed with the communication and organization of the tour. The second would not be possible without the 39 participants on the trip, each bringing their own perspectives and past. Going through a learning experience with people brings you together and gives you an awesome base to build relationships. This extends to more than just Birthright.
So now I'm sharing this experience with you.
Would you like to learn more about any of these areas?  Have you been to any of them? Leave a comment.