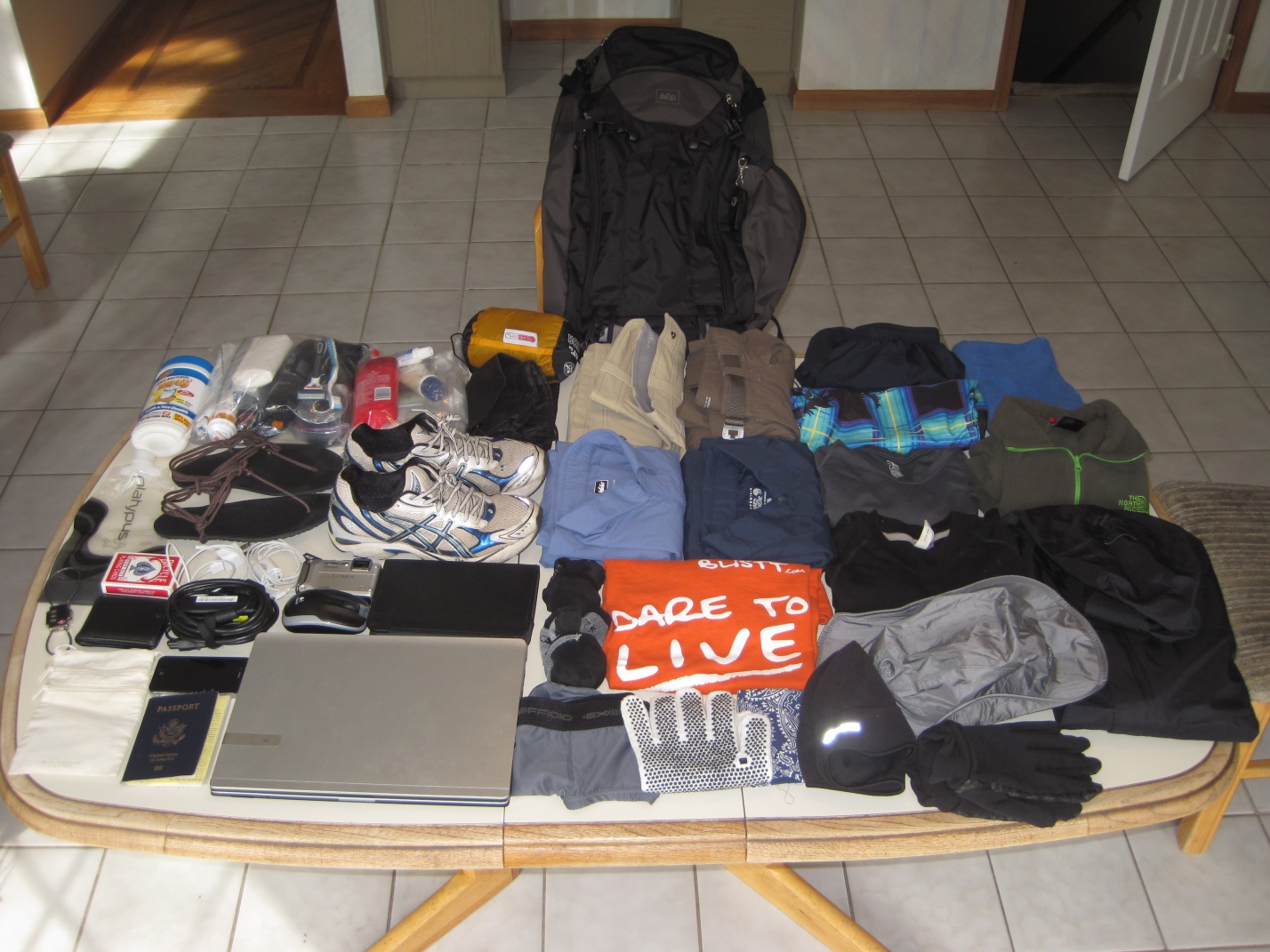 As I walked up and met with my group for Birthright at Philadelphia International airport and checked in, I received a few puzzling looks. "Is that one pack really all you have!?" "Yes", I replied with a smile. As others were checking bags up to 50 lbs for the 10 day trip, I printed my boarding pass with only one 23 lb backpack small enough to carry on. For me, this 25 day trip in Israel (10 days with Birthright, 15 on my own) will help me test my round the world (RTW) packing list.
In our current way of life it seems unfathomable, even impossible to fit everything needed for over a year into one small pack. What clothes do I bring? What are the essentials? Which medications?  Fortunately, I'll share with you the list I compiled from researching books and sites including the Rough Guide: First Time Around the World, www.travelindependent.info, www.artoftravel.com, and www.cdc.gov.
Essentials
Passport
Vaccine Card (Yellow Fever required for many countries)
Credit/Bank Cards
Clothes
Breathable, lightweight, rain jacket
Micro-fleece
2x Travel Pants
2x Long-sleeve travel dress shirt
Long-sleeve wool shirt
Synthetic T-Shirt
Swimsuit / travel short
Collapsible hat
Bandana
Extra-large travel towel
Silk sleeping sheet
Foil blanket
Sports sandals
Running shoes (many elect for only sandals)
2 pair socks
1 set travel underwear (for emergencies)
Electronics
Small laptop w/ charger
Waterproof GPS Camera w/ charger
Kindle w/ charger
Cell phone w/ charger
Multi-country outlet adapter
Accessories
Water bottle
Money Belt/passport holder
Small Pad lock
Nylon Clothes Line
Exfoliating gloves (for washing clothes)
Replacement backpack clips
Compass
Head lamp
Sewing kit
Magic Marker
Passport photos
Toiletries
Sunscreen
Deodorant
Toothbrush/paste
Floss
Soap/shampoo
Cologne
Mirror
Razor
Beard/hair clippers
Nail Clipper
Tweezers
Toilet Paper
Med Kit
Thermometer
Band aids
Sports Tape
Second Skin/Krazy Glue
Iodine (for treating water)
Malaria pills (if needed)
Altitude pills (if needed)
Cipro pills (for food poisoning and upset stomach)
Azithromycin pills (same as Cipro, for Southeast Asia)
Ibuprofen
Antihistamines
Vaseline
Lidocain Cream
Hydrocortisone cream
Antibiotic ointment
Rehydration sachets
Insect repellent
Wet wipes
Condoms
In additional, I also brought a few non-essential items: running shorts, light hat and gloves, and my Blistt.com Dare to Live shirt.
There are a few general rules to follow when packing for extended travel
You WILL bring more than you need, so pack less. You will be carrying everything around, so you want your pack to be as light as possible.
Clothes should be multi-purpose so they can be re-used and worn hiking or in formal settings. Less clothes means washing often in sinks.
It's better to buy-it-there than bring it.
Most electronics are non-essential and should be avoided if possible (I'm taking my laptop to work on https://blistt.com while traveling)
So far after two days in Israel, my packing list is working out great. I wonder how it will work out after 25 days!
Did I miss something in my pack? Should I have left something at home? Do you have your own packing list? Please share your comments and feedback below.