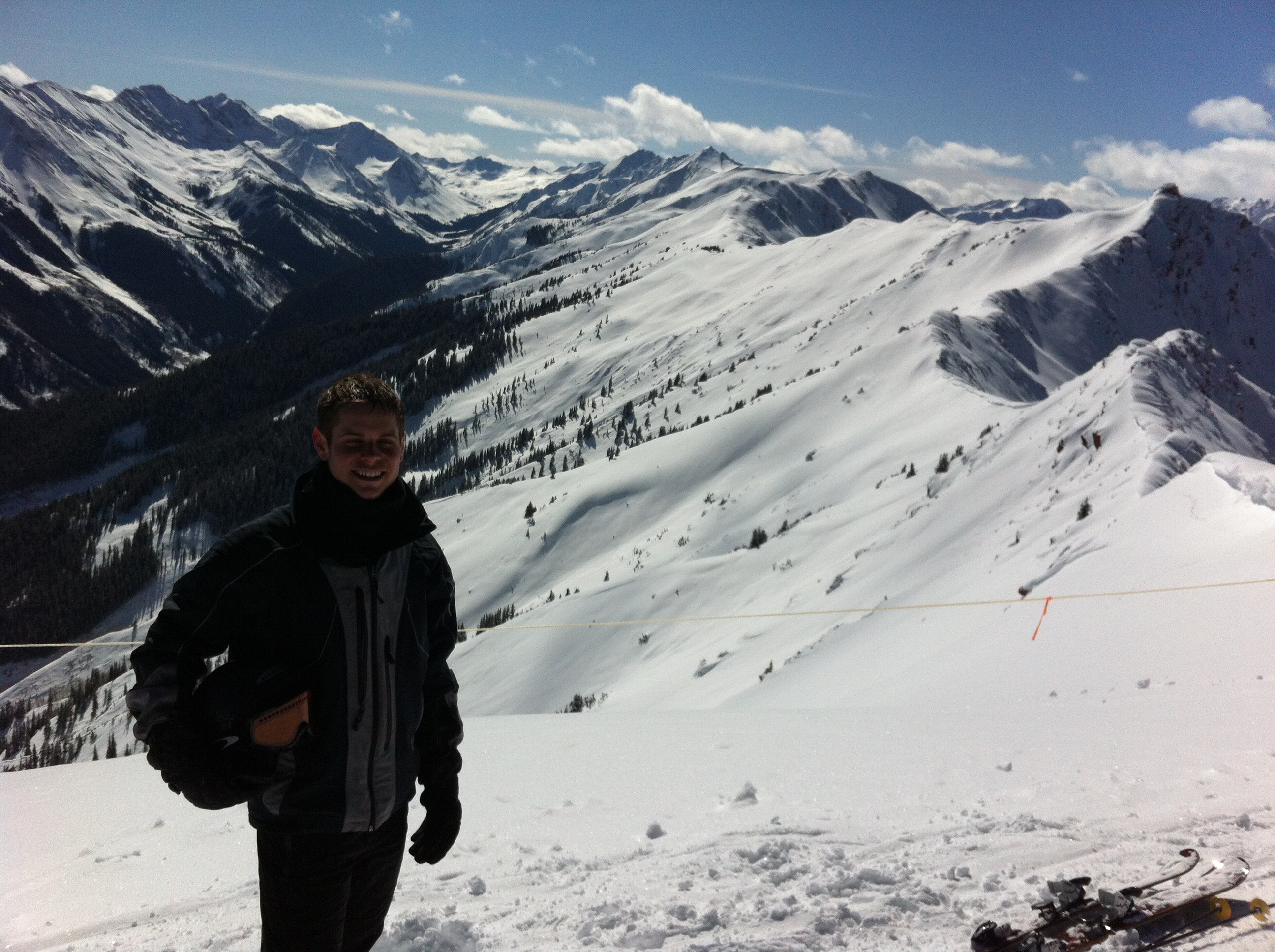 Colorado also has some of the best skiing in the world, and there are many resorts within a few hours drive from Denver or Aspen.  Whether you're an extreme skier or just learning, a ski trip is packed full of beauty, fun, and excitement.  In five days, I skied Beaver Creek, Vail, Snowmass, Aspen, and Aspen Highlands.  Check out my experience with each resort below.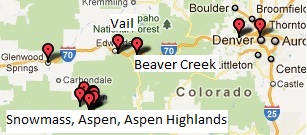 I flew into Denver on Friday, February 10th and met up with my friend Drew.  We stayed in Denver Friday and Saturday, which helped me acclimate to the altitude.  We visited the American Mountaineering Museum, which has a large scale model of Mount Everest with the different routes marked, stopped at the enormous flagship REI store, and checked out a few downtown bars, including an arcade bar called 1up.  Sunday morning we headed off into the mountains.  Beaver Creek was about an hour and a half from Denver.
Sunday: Beaver Creek
Beaver Creek markets themselves as a premier ski resort with luxurious restaurants and condos.  You could ski in and out of the Weston or Ritz Carlton at the base of the mountain.  Their slogan is "not exactly roughing it".  The mountain itself is fairly large and has runs for all levels of skier from beginner green trails to expert double black trails.  The trails are well kept.
Drew and I met up with my good friend, Brian, whom I grew up with and his family in the Arrowhead Village before hitting the slopes.  The first day out was a little tough, as I was getting used to skiing again.  It had also snowed and was continuing to lightly snow, which was great for the conditions, but the flat light made it a little difficult to see the terrain.  By the end of the day, we were exhausted in a good way.
Beaver Creek is a high quality resort with great skiing.  Having been there multiple times, I would recommend it.
Monday: Vail
Vail is a huge resort with world famous skiing and a beautiful village.  Known for its 5 back bowls, Vail has more backcountry and expert terrain than any other Colorado mountain.  It would take days to fully explore the whole Vail mountain.  In order to take full advantage of skiing Vail, you should feel comfortable skiing expert slopes.
Vail is about 15 minutes from Beaver Creek and lift tickets from either mountain work with each other.  You could ski Beaver Creek in the morning and Vail in the afternoon or spend a day or two at each.  Another very cool feature of the tickets is called EpicMix, which tracks how much you skied, including how many lifts and vertical feet you skied down.
After skiing Vail, Drew, Brian, and I grabbed a beer and relaxed in the outdoor hot tub at Arrowhead Village.  It's a perfect way to unwind after a couple tough days of skiing.  Next, we went out to dinner at the historic Minturn Saloon.  The food was delicious and the atmosphere was fun and interesting – old western style.
Tuesday: Snowmass
Snowmass is another large mountain about a 15 minute drive from Aspen, one and a half hour drive from Beaver Creek/Vail, and four hour drive from Denver.  The mountain has a variety of runs from beginner to expert, including the longest run in the US, Longshot.  If you're into terrain parks, the Aspen resorts have great small, medium, and big parks.  The past X-Games were hosted in Aspen.  The base of the mountain has a small ski village and a small mall with stores, restaurants, and bars.
Drew and I left Beaver Creek early Tuesday morning to get to Snowmass and skied there all day.  We met up with my good friends Kelsey and Dan who work on the mountain.  They gave us an awesome tour of the mountain and base village.  After cooking up a good dinner, Drew left to go back to Denver while I stayed in Snowmass with Kelsey and Dan.
Wednesday: Aspen
The Apen resort is the oldest and most famous resort and town in the area.  It is known to have some of the best skiers, as the mountain only has intermediate and expert slopes and is not meant for beginners.  Though the mountain was small when compared to Beaver Creek, Vail, and Snowmass, the slopes were beautiful, very well groomed, and the moguls were well formed.  The glade runs were both fun and challenging.  At the base of the mountain just feet from the slopes is the town of Aspen, which is older, nicer, and more established than a ski resort village.  You can find restaurants, shops, and bars to suit your style.
Kelsey, Dan, and I had a blue sky day at Aspen.  With snow earlier in the week, conditions were amazing too.  We were able to find some fresh snow to ski down almost every run.  Aspen was beautiful, challenging, and my favorite overall ski day in Colorado.
Thursday: Aspen Highlands
Aspen Highlands is a smaller ski mountain with steep ski slopes and difficult terrain.  It's most known for the picturesque Highlands Bowl which is an almost vertical, expert's only mountain face that takes two ski lifts, a snow cat ride, and a 30 minute hike to get to the top (see picture below).  On the mountain is also a famous, elegant fondue restaurant called Cloud 9.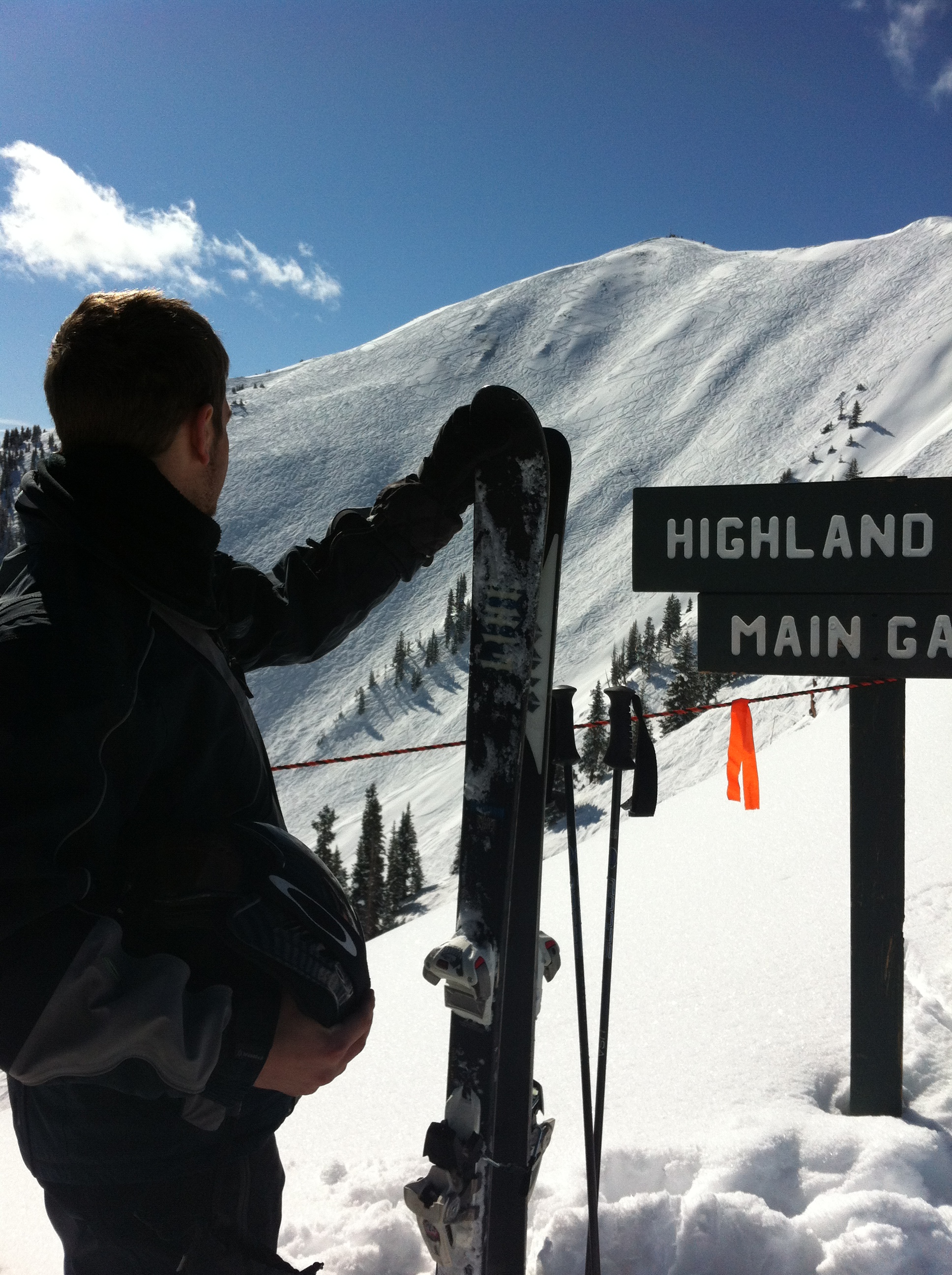 The highland's bowl was by far the best run.  We had another perfect, blue sky day.  We had one goal, ski the Highlands Bowl.  We went straight up the two lifts and proceeded through signs that said "Expert's Only".  Next we hopped on the back of a snow cat and took a short 10 minute ride to the hiking point.  The huge bowl was in the background and we could see little people on the ridge hiking up.  It looked quite intimidating.
After taking some pictures we proceeded to lug our skis up the mountain for about 30 minutes in our ski boots.  At one point, we walked around a rope bolted to rocks to hold onto in case we slipped.  We reached the top hot, tired, and out of breath, but it was totally worth it!  The view absolutely beautiful – one of the nicest view's I've ever seen.  You could see a full 360 degrees for miles with rolling hills and white capped mountain peaks.  It was surreal.  As a bonus, we saw two ski paragliders launch from the top of the mountain and sail down.
Once we put on our skis, we approached the edge of the mountain and looked down.  It was just about vertical and we could see tiny people all the way the bottom!  We dove in and took it slow.  The conditions were amazing with lots of powder because not many people hike up and ski down.  It was an adrenaline rush all the way to the bottom, and I enjoyed every second of it.  The run really was amazing, but the whole experience of the two lifts, snow cat ride, and hike made it that much more enjoyable and memorable.
We took one more lift up and run down the mountain because we knew we wouldn't be able to top the bowl.  After, we relaxed in Snowmass rec center hot tub and swam a few laps to loosen up our muscles.
That night we took a bus into Aspen and ate at the Hickory House.  Three of us ordered The Feast, a massive tray of BBQ pulled pork, BBQ pulled beef, ribs, half-chicken, potatoes, corn, baked beans, cole slaw, and toast.  I ate so much, it nearly made me sick.  We finished the night by grabbing a delicious beer at the Aspen Brewhouse and karaoke at the Red Onion.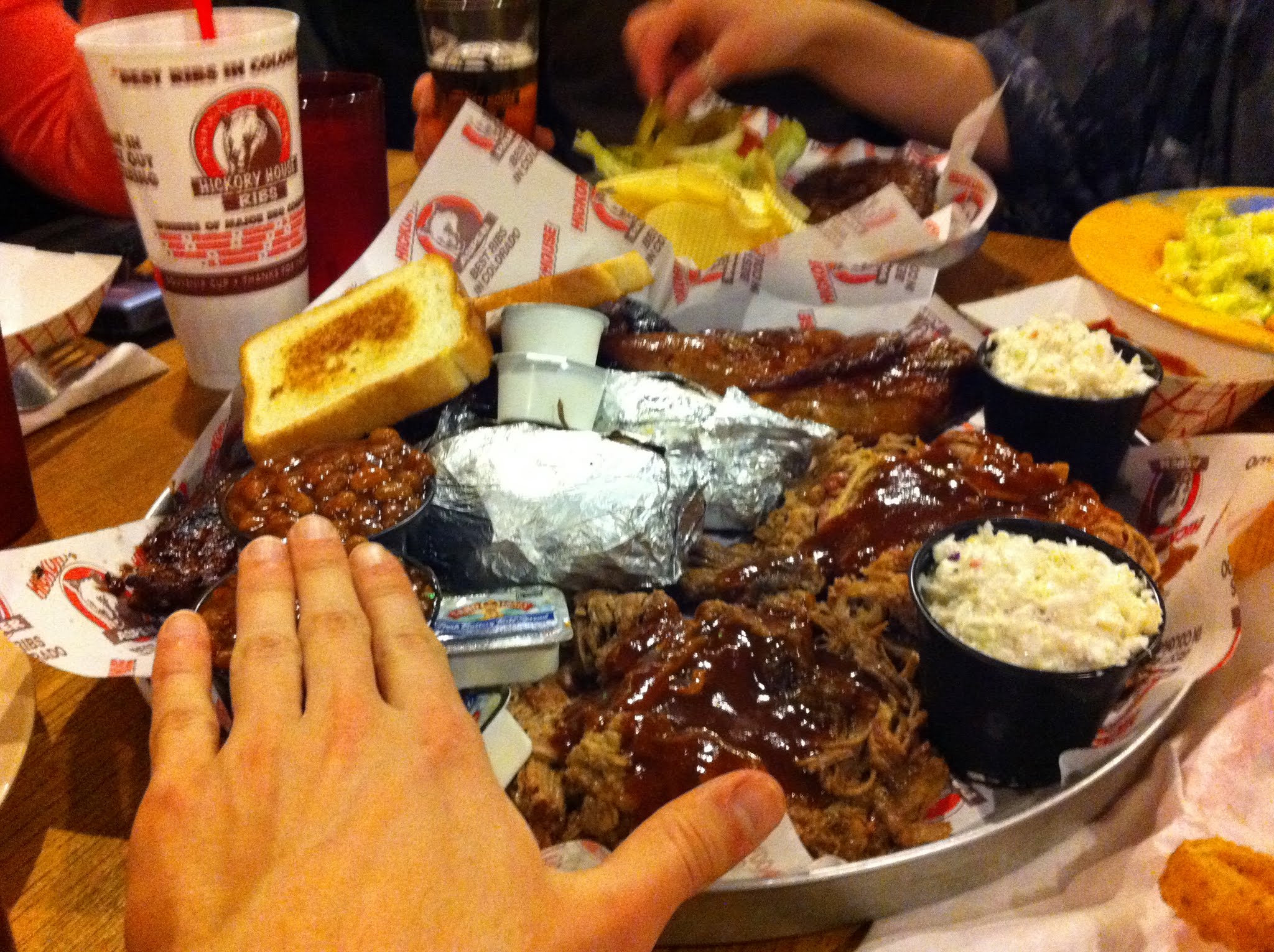 Awards
Each day and each mountain had something unique to offer and all of them were tons of fun both on and off the mountain.  The great part about Colorado is you don't need to stick to just one – you can experience them all.  Below are my awards:
Best Mountain: Beaver Creek
Best Ski Day: Aspen
Best Ski Run: Highlands Bowl
Best Meal: Hickery House
Have you been to other mountains in Colorado?  Leave a comment below with your experience.